Respond First, Ask Questions Later
Lawyers who respond to more cases than they archive routinely retain more clients than those who are selective based soley upon the posted case details; i.e., case title, limited details, income, grammar, etc. Why? Interesting and lucrative cases may not reveal themselves right away. It is during the consultation when lawyers are able to dig deeper, ask questions, and uncover details that clients may have not included when they posted their case . The most successful Member attorneys on the LegalMatch platform are those that follow the "Respond First and Ask question Later" principle. Our research indicates that following this principle will increase your chances of being retained by 40%.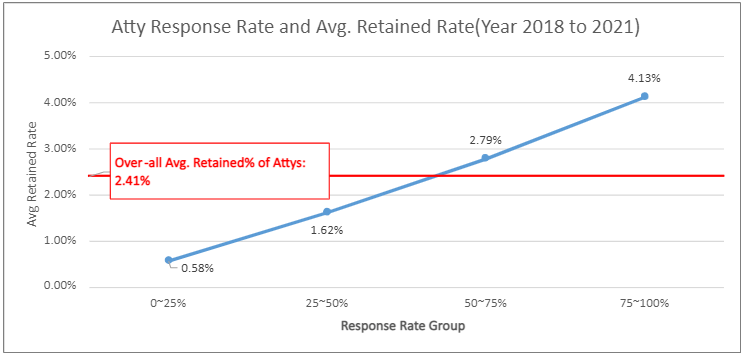 When you are trying to retain clients, you should reach out to them right away. The idea is to initially get more details about their current situation, where they are in terms of financial resources, what steps have been done in the attempt to resolve their issues and other information that can help you decide whether you would want to work on the case or focus on helping another client instead. Do not analyze the case information until you have spoken with the client. Respond to all cases, once you get the potential client on the phone, you will be able to qualify them.
Your business may lose sales from prematurely vetting the potential clients as some clients prefer to open up to a real person during phone calls instead of just encoding their details on the website. This process also effectively creates a rapport between you and the client so getting their cooperation once you decide to work on the case will be easier.
The best advice I could give a new LegalMatch lawyer to get the most out of their LegalMatch membership would be to contact back the client as soon as possible. When I get a referral, I start with texting immediately. Later, I typically go online to send a more detailed response. Maxwell L., Brookfield, WI, Employment and Labor Law
I don't have to create a new response every time I respond to a lead. I can buff and polish the templates and get them as tight and as good as I can and I can respond in seconds with these. Many times, getting to that lead first can really be critical. Clark W., Irving, TX, Wills, Trusts, and Estates
One thing I would say is to stay current about getting your leads. And then once you get your leads, follow up with people. Don't be afraid to call. They've asked for your help already and now you need to see if you can really help them. Michael Spencer C., Lynnwood, WA, Family Law
In terms of the process, be as responsive as you can to clients. You will receive an email telling you there's a new case on file. If you're interested in that case, I recommend being expeditious about it and getting back to them as soon as possible. Howard b., Rye Brook, NY, Business – Litigation