Data Shows Successful Members Have Higher Log In Rate and Response Rate
Introduction
LegalMatch supports Member Attorneys by providing a steady source of potential clients through its Mobile App (iOS and Android). As the largest online attorney/client-matching service in the US, LegalMatch offers a platform where getting potential clients is more straightforward and convenient. This platform enables lawyers and clients to set up a meeting for an initial consultation without stepping out of their offices. Data shows that Login Rate and Response Rate determine the quality of leads that Member Attorneys get daily. To maximize your subscription, let's dig deeper to understand these variables.
Log-in Rate
When legal counsels want to get clients through the online platform, they can access their account through the app. The log-in page will ask for the registered account name and password. This systematic process depends on how often the Member Attorney wants to engage with potential clients. Our successful Member Attorneys allocate time each business day to check the app because it allows them to choose the case they want to take. Since leads are posted daily, lawyers who make it a habit to check on their app have more success at getting their preferred clients. On the other hand, Attorneys who don't often check their LegalMatch app or account may miss out on clients that suit their specialization area.
Response Rate
Displaying an immediate interest in helping out a potential client can make you stand out and land the job. Clients tend to get the lawyer who reached out to them within 10 minutes, even if they have several counsels on their list. One of the best practices of successful Member Attorneys is to craft a template response and send it right away as some clients limit the information on their case. Hopping on a call with them is needed to flesh out more details about the problem rather than wait for a scheduled date.
Why Log-in Rate and Engagement Rate Affect the Quality of Leads
Clients who post their cases through LegalMatch want to be assisted by a legal professional. They know that their subsequent decisions will significantly impact their life and assets. Clients expect to find someone who can help them with their problems and provide advice to take wise actions. A lawyer who reaches out first to these clients gets a bigger chance of being hired. Even if there is a mismatch of specialization, the lawyer may still get a client by asking questions that could lead to a referral. Not allocating enough time to respond or answering after more than an hour after the case has been posted significantly decreases the chances of getting hired.
Data gathered from the first quarter of 2021 shows that successful attorneys who maximize LegalMatch services put more effort in engaging and responding with prospective clients. They are intentional in communicating through the platform and send their template response immediately. We can see in the first graph that successful members have a 1.22% higher Response Rate and 1.93% more Retained Rate than attorneys who see themselves as reasonably satisfied with the service.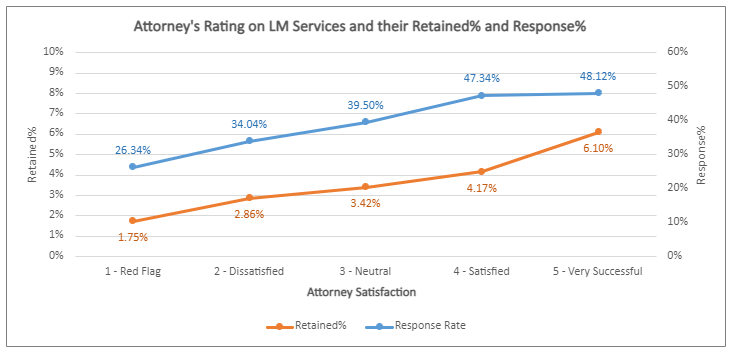 The second graph shows that satisfied and successful Attorneys have a higher percentage of Response and Log-in within seven matched days. Attorneys' success in using LM services to transform leads into paying clients is attributed to their effort to Log-in on the app and react to posts.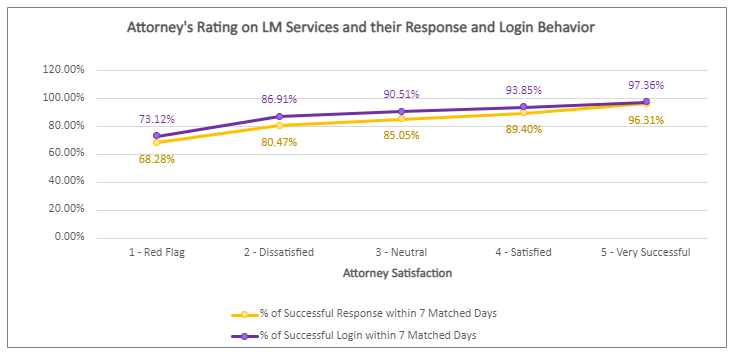 Notably, 42% of the Member Attorneys who have been with LM for more than 3 years said that they are satisfied with the features and assistance of LegalMatch in growing their business. There is a small percentage of those who expressed dissatisfaction, and consequently LegalMatch is relentless in addressing the concerns that contribute to their feedback.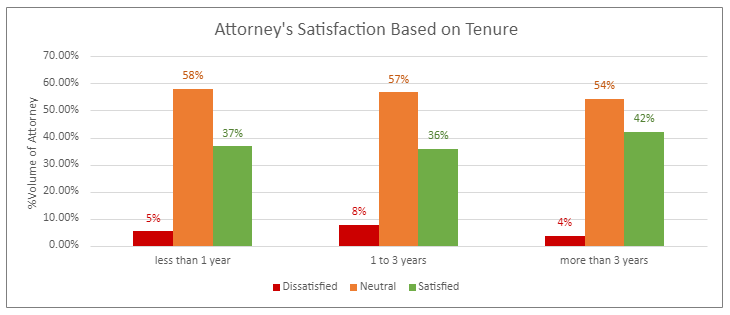 What is the Ideal Response Time to the Posted Cases?
As reiterated, faster Response Time results into a substantial possibility of a successful engagement with the client, leading to a closed deal. The best time to respond to a case is within 5 minutes after clients posted it. This is proven by the observed decrease in the chance of engaging a client for every No Response Period, specifically a -17% drop for every 5-15 minutes of No Response, a -24% drop for every 1 hour, and a –51% drop for every day.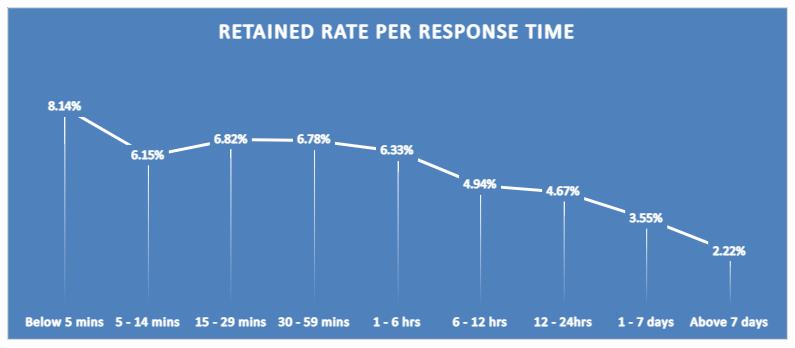 Conclusion
The LegalMatch Attorney Mobile App's primary goal is to provide lawyers a better experience in operating and growing their business through remote client acquisition. Member Attorneys can maximize subscription to the client matching program using the app daily and contacting the client. The data presented above emphasizes that Log-in Rate and Engagement Rate are vital contributors to the success of our Member Attorneys. Here are some of the best practices for lawyers using the app:
Replying as soon as possible
Responding to all cases
Giving free consultations
Optimizing the profile
Offering flexible and negotiable fees
Customizing response templates
Keeping a positive attitude
Remote client acquisition gets better over time as Member Attorneys avoid delaying responses to their clients. This also explains why Attorneys who have been with LegalMatch for more than 3 years are more successful in getting new clients and referrals. Read testimonials from top-performing Attorneys here to learn from their best practices.