Take Advantage of the Mobile App and Retain More Clients
LegalMatch Mobile app is a cloud-based legal practice management solution that allows you to operate your practice remotely. It enables lawyers to make the initial contact, send templated responses, and set up a zoom or in-person appointment anytime. The app is designed with a mobile-friendly interface and features so you can respond to clients anytime, anywhere.
Lawyers who use the mobile app can respond faster even if they are not in front of their computers. They get real time notification if there's a new case posted via the app. Lawyers are able to reply to the inquiries and new cases even if they're outside their homes and doing other things. And so, this results to 2x faster response to their potential clients than those who work on their desktop computers.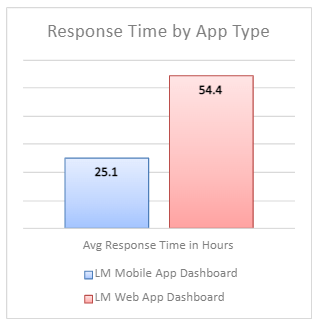 The graph above shows that LegalMatch Mobile App Dashboard allows lawyers to respond faster, with only 25.1 hours average response time.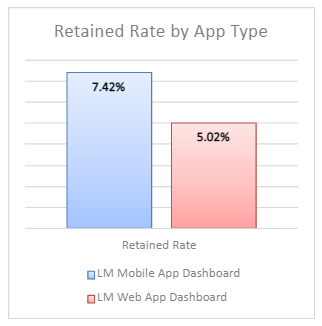 With the real time notification sent in the mobile app, more lawyers were able to respond to the new cases, effectively allowing them to engage and talk to more potential clients.
A number of success stories with LegalMatch demonstrate how to generate leads for law firms through the mobile application. Lawyers who respond quickly by using the mobile app are 40% better at retaining clients than those who are only using their computers. A few of them are presented below.
Of course, as with any other business, responsiveness is the key to success. I have the referrals sent to my cellphone as text messages, in addition to receiving those sent via email. As such, the LegalMatch system is fast, effective, and economical for both the lawyer and potential client. I highly recommend LegalMatch for both lawyers and potential clients; I would give the service the maximum number of thumbs up! Thomas G., Denver, CO, Business – Litigation
LegalMatch is perfect because it helps us find those clients. The potential clients are asking to be contacted by a lawyer. So as long as I get them on the phone and get them into the office, I know I could close the deal. You do that enough times and you do a good job, the word spreads. And that's how I've been able to get more opportunities from LegalMatch. Kory S., Ft. Lauderdale, FL, Business – Litigation
Manage your LegalMatch account on the go with the companion app while retaining most of the features you can use on your desktop. With LegalMatch mobile App, you can easily review and respond to your cases by calling, emailing, and texting your clients directly.