| | | | |
| --- | --- | --- | --- |
| Links | Paragraphs | Headings | Images |
| Tables | Numbered Lists | Bulleted Lists | Regions |
The web elements help to make a web page and its content much easier to navigate while enabling visitors to quickly scan and access the information that they seek. Using a variety of web page elements creates a much better user experience and keeps visitors on your website much longer, which helps improve SEO rankings.
Types of SEO Rankings
Search rankings generally break down into two common types: SERP rankings and local pack rankings. The main difference is about how users go about searching for the legal services your law firm provides.
Here's a closer look at both.
Standard SERP Rankings – A SERP is essential to search engine optimization because the higher the ranking on the first SERP page, the more people tend to click on it. The goal of SEO is to get your website as close to the top of the results page as possible because about 60 percent of consumers contact law firms that appear among the top-three search results.

Local Pack Rankings – Many search engines, including Google, display certain search results when a user searches a map. For instance, if you type in "family lawyer near me" in Google Maps and you live in Santa Clarita, Google will display specific law firms in that region. This screenshot shows what a local pack ranking looks like on a user's screen:

How to Assess Ranking Report Data
While search engines do involve human technicians, companies like Google mostly rely on machine algorithms to process the trillions of data points they constantly receive. Google calls its machine-learning AI algorithm "RankBrain."
RankBrain helps Google find the most relevant pages for a search query. Think of it as a proprietary score based on a set of metrics such as click-through rate, bounce rate, and time on site. RankBrain uses metrics like these to determine the most relevant website for each set of search inputs (that is, keywords and user intent).
Here's how:
The click-through rate is a measure of how often people click on the link to a web page when it appears in search results for a particular keyword. A good click-through rate suggests the web page has greater relevance to the search input that yielded that result.
The bounce rate measures the percentage of visitors who click through to the web page but leave after viewing just that single page instead of exploring more pages on the website. If a page's bounce rate rises over time, it suggests the page lacks relevance to the search inputs that yielded that result.
Time on site is a measure of how long visitors stay on the website as a whole, after clicking a link provided by specific search terms. Both Google and Bing algorithms can measure the time from when a visitor clicks on a link to your site until that visitor leaves. The longer a visitor stays, the more relevant that web page is considered, and the algorithm will reward that page with higher rankings for that search term in the future.
Focus on Long-Term Performance
Google and other search engines really love websites that have been around for many years and have lots of pages that contain unique and relevant content. The older a website is, the more insulated it becomes against the continual algorithm updates that are designed to reward quality websites and punish the pretenders. For that reason, long-term performance matters greatly when you want to get the best possible SEO results.
Every web page and website that Google ranks for SERP purposes is indexed. The more web pages that Google recognizes and indexes, the higher the overall ratings for the website and its respective web pages. So it's important to update your law firm's website with new and unique content to increase the number of indexed web pages.
If you were to create a simple splash page in hopes of ranking high for a particular search term, it would not earn a good SERP rating. Instead, Google might not index that page at all and could punish your website if it relied on quickly-produced splash pages that lack unique content.
Likewise, if Google determines some of your site's content is plagiarized or otherwise closely resembles content on other websites, the search engine might delist the entire website, which would stop your online marketing in its tracks.
Monitor Organic Search Rankings
There are two types of search results:
Paid: You bid on a particular keyword and pay search engine fees whenever someone uses that keyword to find a link to your site and click on it.
Organic: Costs you nothing, because search engine crawlers have indexed a page on your site as relevant to specific search terms and therefore provided a high SERP rating.
You can use tools like SEMrush to see organic rankings over time. Just enter the URL for a website, and the tool will create a report that shows which keywords are producing online traffic for your website or for competing websites.
SEMrush can show you which competitors are drawing traffic from specific search terms and their respective SERP ratings. This information will help you determine what kinds of new content you can add to your website to better compete for new clients.
Once you generate that keyword ranking data, here are some tips on how to more easily understand how your website/webpage ranks:
Step 1: Create a position-tracking campaign for a particular website on SEMrush.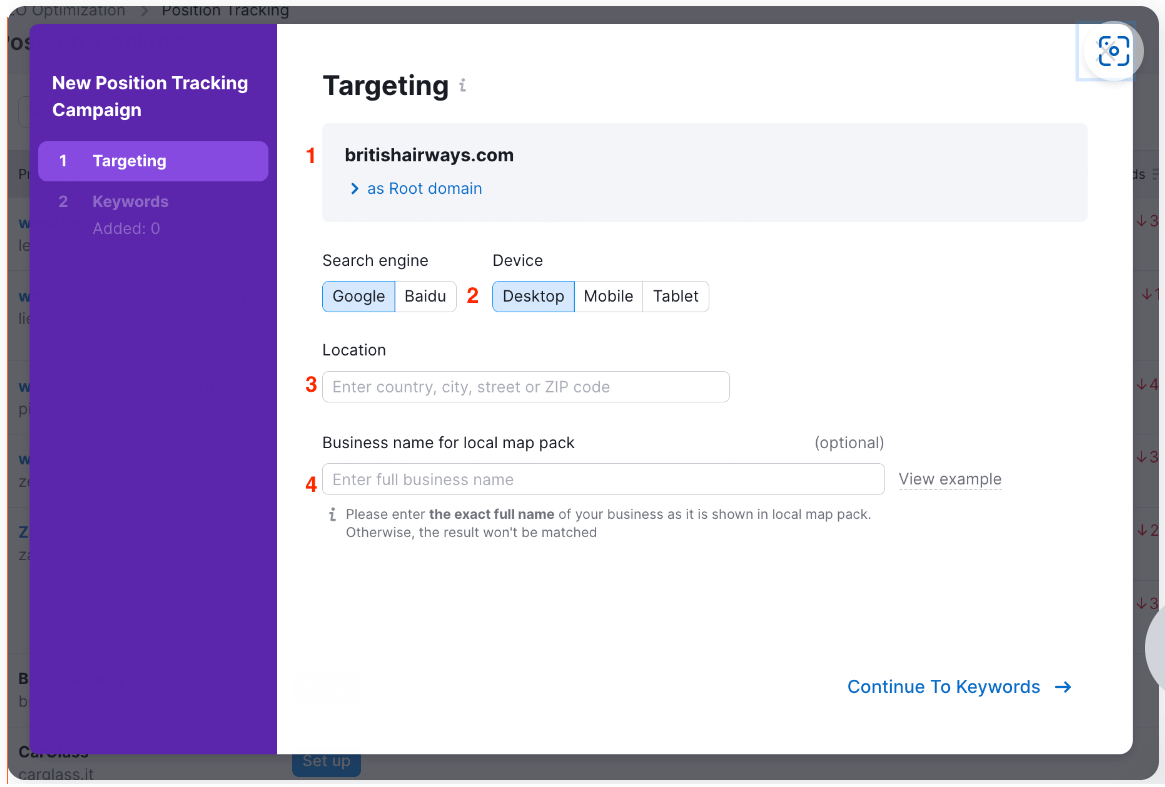 You can choose the scope, which could be your entire website by entering the root domain or a specific web page by entering a subdomain, URL, or subfolder.
Step 2: Choose the types of devices that you want to track. Your options are desktops, mobile phones, and tablets. Desktop refers to online devices while mobile phones and tablets are mobile devices.
Step 3: Enter your location data, which could be the country, city, street, or zip code.
Step 4: Filter by keywords only containing your location or your category of law to see individual or small-scale patterns in keyword ranking changes.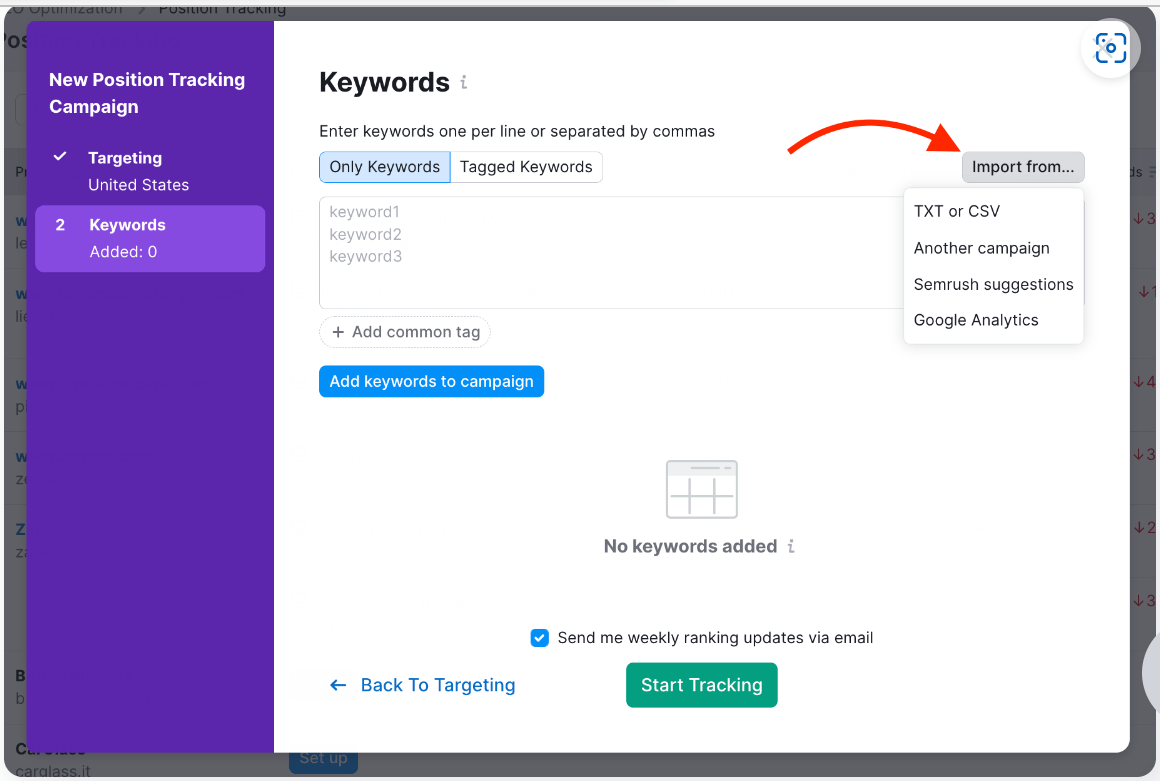 Step 5: Add your competitors so that you can compare your rankings with theirs.
Step 6: Download position tracking reports from SEMrush to compare your website's performance with your competitors.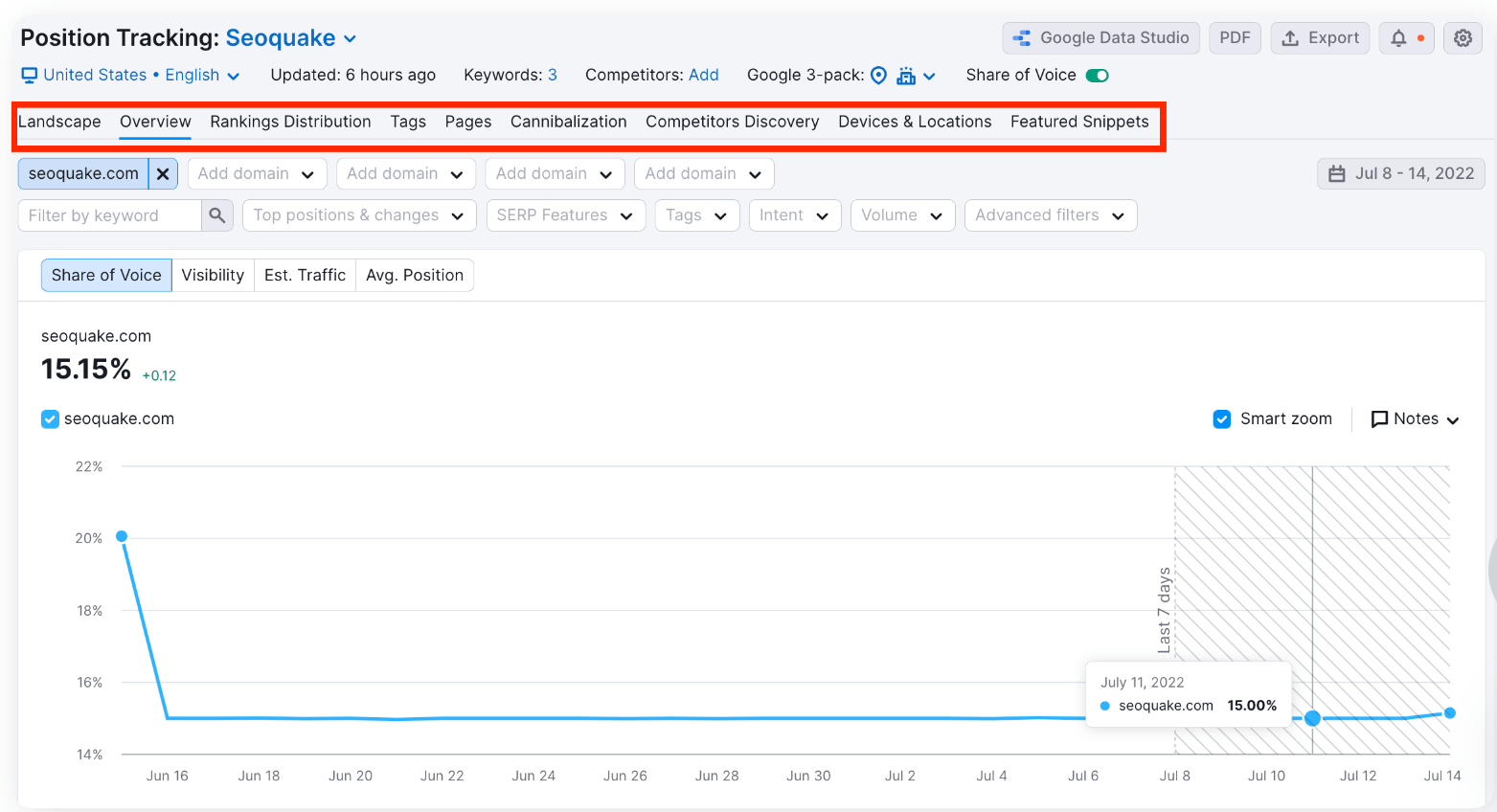 Troubleshooting Poor SEO Rankings
Poor SEO rankings don't have to be permanent. To initiate quality-improvement measures, you can investigate why your website is floundering and turn that trend around. But keep in mind that it takes 6-12 months to improve SEO rankings and see measurable results that confirm your efforts are paying off. If you're trying to rank for very competitive keywords, it could take several years to see improvement. But it is still possible.
Here are several things you can check to learn why your website may not be performing well:
SEO Best Practices: You should use standard SEO best practices to obtain the best results. Setup back links magnets, organize your website, and focus on the best keywords for your practice. If you don't follow SEO best practices, you may lose ground to websites that follow these standards.
Content Quality: Your website's performance may also suffer if the quality of your content is subpar. If your website's content is overly stuffed with keywords, too thin, or poorly formatted, search engines may lower its ranking. Conversely, well-written and well-organized content will increase your website's ranking.
Load Times: Your website may not be performing well if it is having technical issues. If your website has high load times, dead links, or other issues, it will not do as well as websites that do not have the same issues. Google uses consistent up-time for a domain as an overall ranking factor, too.
How to Improve Your SEO Rankings
Nothing is more frustrating than putting in many hours of work and still not seeing positive results for your efforts. If you follow all these suggestions and don't see your website placing higher on search engine result pages after six months, we recommend you perform a competitive analysis to better understand why the current top-ranking web pages in the SERP have earned that position.
Here's how to use SEMrush to perform a competitive analysis:
Step 1: Use to the Organic Research tool inside SEMrush to enter your website's domain and find your competitors.



Step 2: Go to the Main Organic Competitors report section to see which websites compete for the same keywords that you use to promote your website.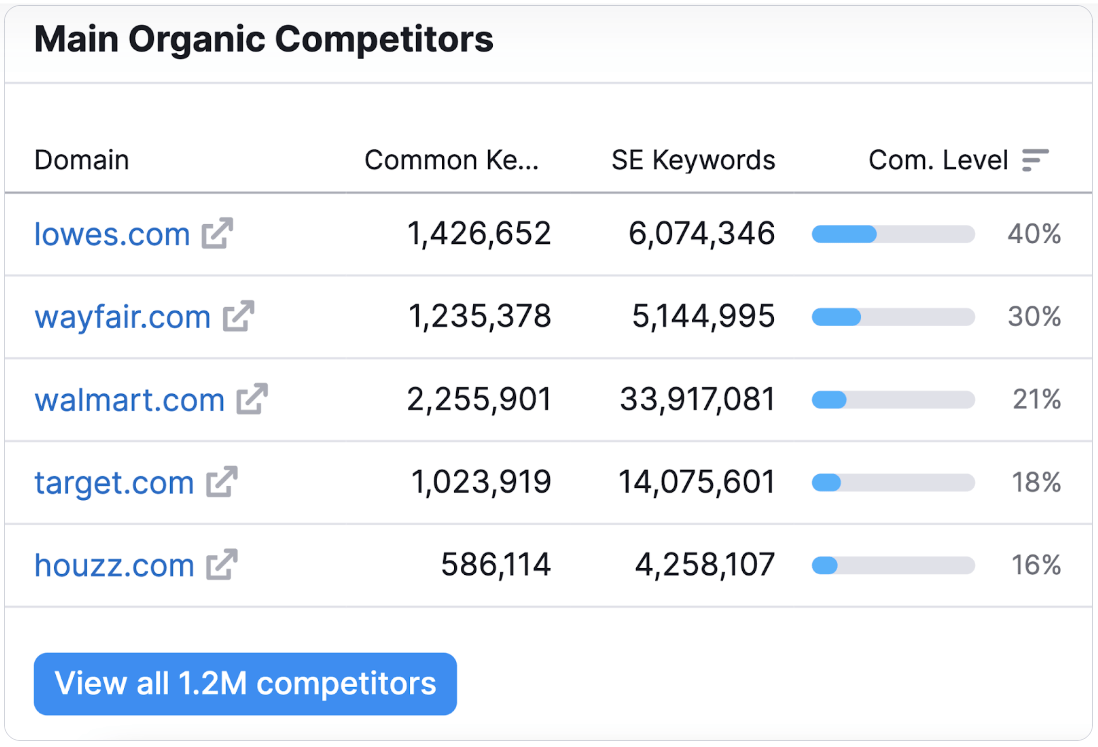 Step 3: Click on "View All Competitors" to see a complete list.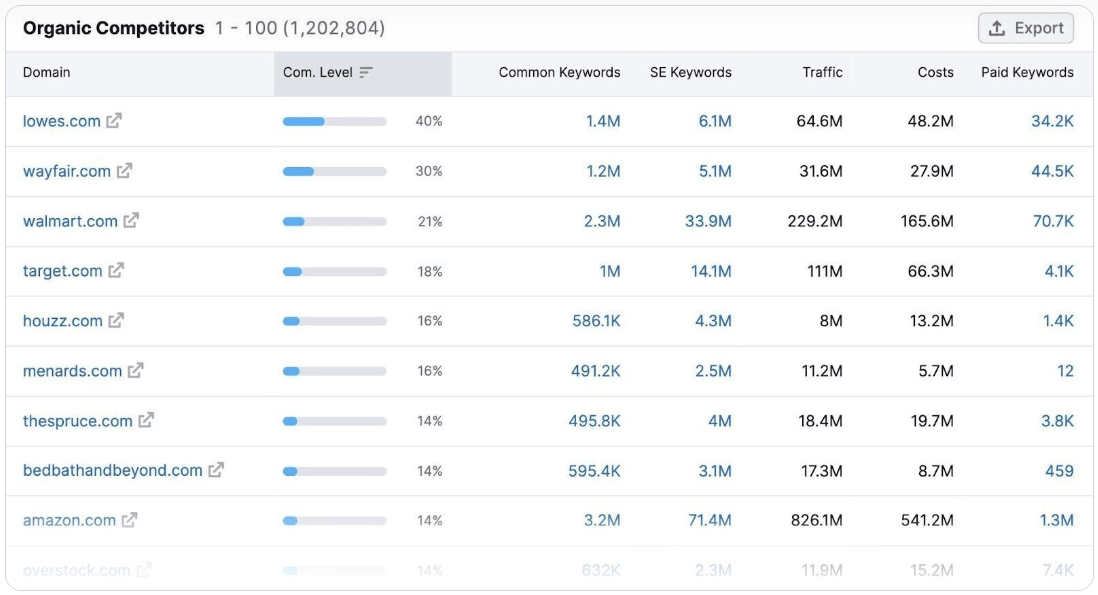 Step 4: Enter your domain and the domains of up to four competitors, then click the "compare" button to generate a report.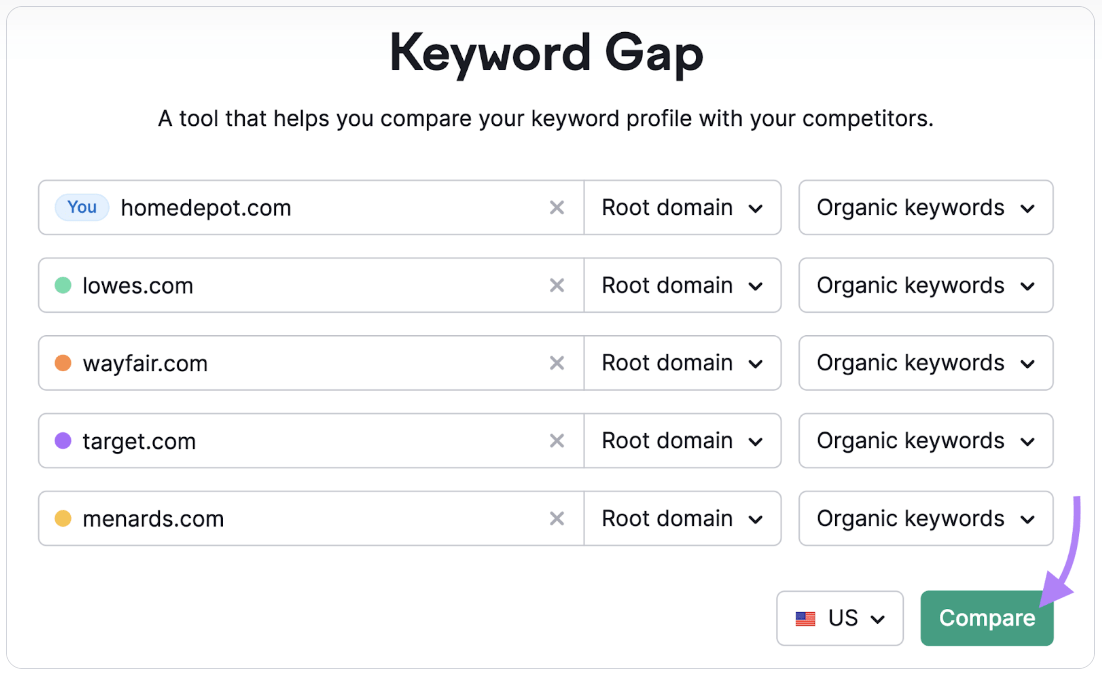 Step 5: Click the "Missing" tab to learn which keywords your competitors are using that you are not.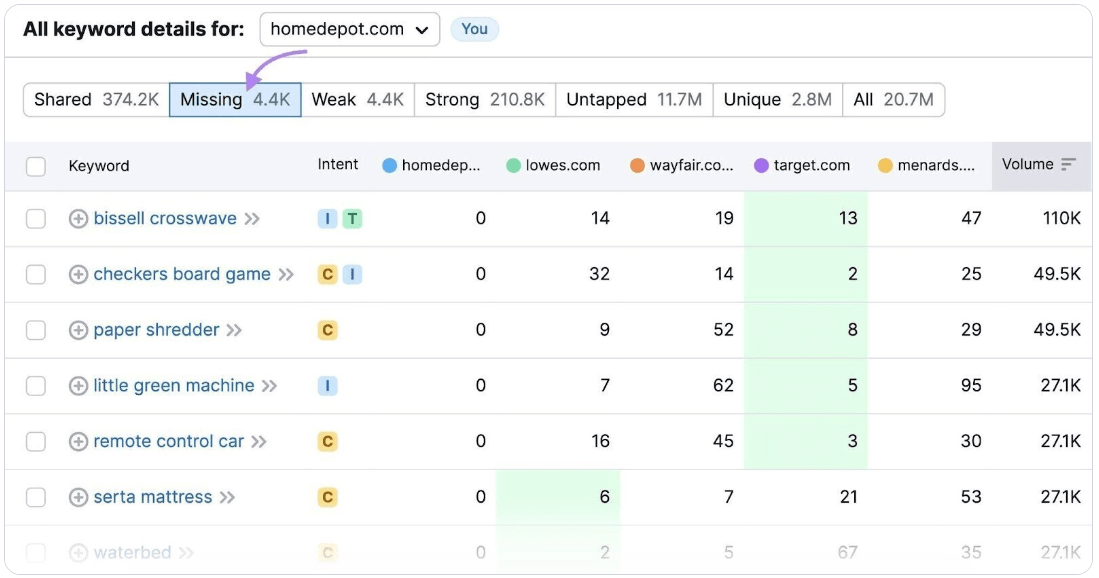 This will allow you to see commonalities and outlying factors and help you better understand why the current top-ranking web pages in the SERP have earned that position.
You follow a similar process with other SEMrush tools to compare additional data, such as load times for competing web pages, types of content on those pages, quality links, and much more. Where you find differences between your website and the top-ranked websites, you can mimic and improve upon that element to close the gap between your website and the higher-ranked websites.
Experienced marketers regularly measure and track performance in this way.
You could hire dedicated staff to handle your law firm's online marketing and SEO, but that gets costly fast. And few people are well-versed enough in the areas of both marketing and legal practice.
Another solution is to leverage the expertise LegalMatch has developed over more than 20 years as the nation's premier attorney-client matching service. But don't take our word for it. Here are just a few of the happy attorneys for whom we've provided a steady stream of potential cases:
When I talk about cost benefit analysis compared to other lead generating systems that are out there, being with LegalMatch for 10 years has to say something. David Z., New York, NY, Family Law
We normally get leads several times daily from LegalMatch. It varies, but it is on a daily basis. At least 50% of those leads turn into actual paying clients. Bret D., Oklahoma City, OK, Real Estate Law
Over the course of a year, I have more than 365 leads from LegalMatch. There might be some days when it gives me multiple leads. Jason T., Salem, OR, Criminal Defense Law
LegalMatch is one of the best investments you can make in your law business because it will pay for itself. If you work it right, it will do far more than pay for itself. Teresa H., Baton Rouge, LA, Family Law
Read more LegalMatch success stories or contact us to schedule a demo and learn how you can expand your client base in a way that is cost-effective and convenient for your law firm.