Content Marketing for Lawyers
Content marketing is a strategic approach that focuses on consistently creating and sharing relevant online content (like blog posts, articles, images, videos, and podcasts) to attract and engage your target audience. A well-executed content marketing strategy can help drive traffic, build authority, foster trust, and generate new client leads for your legal practice.
You may wish to use content marketing to establish your law firm in a niche audience or to generate backlinks that support other SEO efforts on your website. Content marketing can also help you organically climb SEO rankings rather than pay more for other SEO options.
If you are a lawyer who wants to use content marketing to attract more legal clients, this article will help you get started.
Types of Online Content
In contrast to advertising, content marketing is a long-term strategy of nurturing customer loyalty by building relationships through entertaining, educating, and engaging content that is targeted to meet the needs of your chosen audience.
To help you reach potential legal clients through the content on your law firm's website, here are a few different types of content you could produce:
Service Page Content
A webpage that details the services your firm provides. This is often the landing page of most business websites, because service pages inform readers what your business does and why they should choose you.
Blog Posts
Blog posts are opinion pieces, generated either by experts or non-experts in a particular industry. Blog posts are a very simple form of online content that anyone can publish to give their opinion on a given topic. However, the most valuable blog posts are in-depth pieces written by those who are regarded as an expert in a given field.
Press release content
As the name implies, press releases are for mass media consumption. You would most likely want to include this type of content if you are working with a high-profile client or case.
Newsletter content
Newsletters provide an update to your readers about what is new with your business. Newsletters can be substituted by daily blog posts, but a substantive newsletter that comes out every month may be more useful to your readers than a blog post every day. Newsletters are often sent out via mass email campaigns, with a sign-up form on your website.
Social media posts
Social media posts help to educate people and redirect them to your website and legal services.
Podcasts
Podcasts are digital audio or audio-video content presented in a format similar to a radio or television program and educate the audience on particular legal matters.
Videos
Videos are a great medium for users who cannot read or don't want to read for any reason. Videos can add a layer of professional production that other websites may not have. They are easier to generate today with the mass production of cellphone videos and online publishing websites like YouTube. You may want to produce a video to reach a larger audience or to impress the ones who are already visiting your website.
Infographics
Infographics are collections of visual graphics that depict factual information. You may find it useful to display a pie chart or graph showing how often people file lawsuits in your field or the number of cases you've settled or won compared to how many cases you have.
Case studies
Do you have a case or similar set of cases you want to talk about in fine detail? Case studies are a form of content that examines one specific case or data point in detail to help readers better understand conceptual ideas represented by that case study and/or practical applications of more general themes.
Long-form content
You can take shorter content pages like blog posts or service page content and greatly expand to cover more than just surface-level information. Legal topics are often nuanced, lengthy, and hard to cover in short form.
Ebooks
Ebooks are novels in electronic format. They are considered highly substantive, but very time-consuming to write. Due to the amount of time it takes to write an entire ebook, authors often sell their ebooks rather than simply publishing them for free on a website. Alternatively, you can offer your valuable ebook as an incentive for client leads who elect to sign up for your email list or newsletter.
How-to content or guides
This type of content explains to your reader how to perform an action or service for themselves. While the goal of your website is to have potential clients hire you rather than do it themselves, "how-to" guides can weed out and build your reputation with simple cases that won't bring in much profit. For instance, most people don't need a lawyer to draft a notice to pay rent or to apply for a marriage license, but guides on topics like these could encourage users to contact you if the problem grows beyond the reader's ability to handle the process on their own. Such guides are also effective as "lead magnets," which reward visitors with discounts or access to special content that interests them in exchange for giving you their contact information that you can use to cultivate leads.
These forms of online content are not mutually exclusive, and many of the above content types can overlap with one another. You can publish a blog post as long-form content, include infographics or a video, or add case studies to a how-to guide or your newsletter. The options are wide open.
The Content Marketing Process
Content marketing requires much more than simply putting words on a page or creating other types of content in hopes of, somehow, attracting more visitors to your website and law firm. You need a content strategy and produce quality content that is relevant to specific topics. Quality content can earn good ratings when assessed and rated by Google algorithms and those used by other popular search engines, such as Bing. Better ratings generally add up to better placement on relevant search results.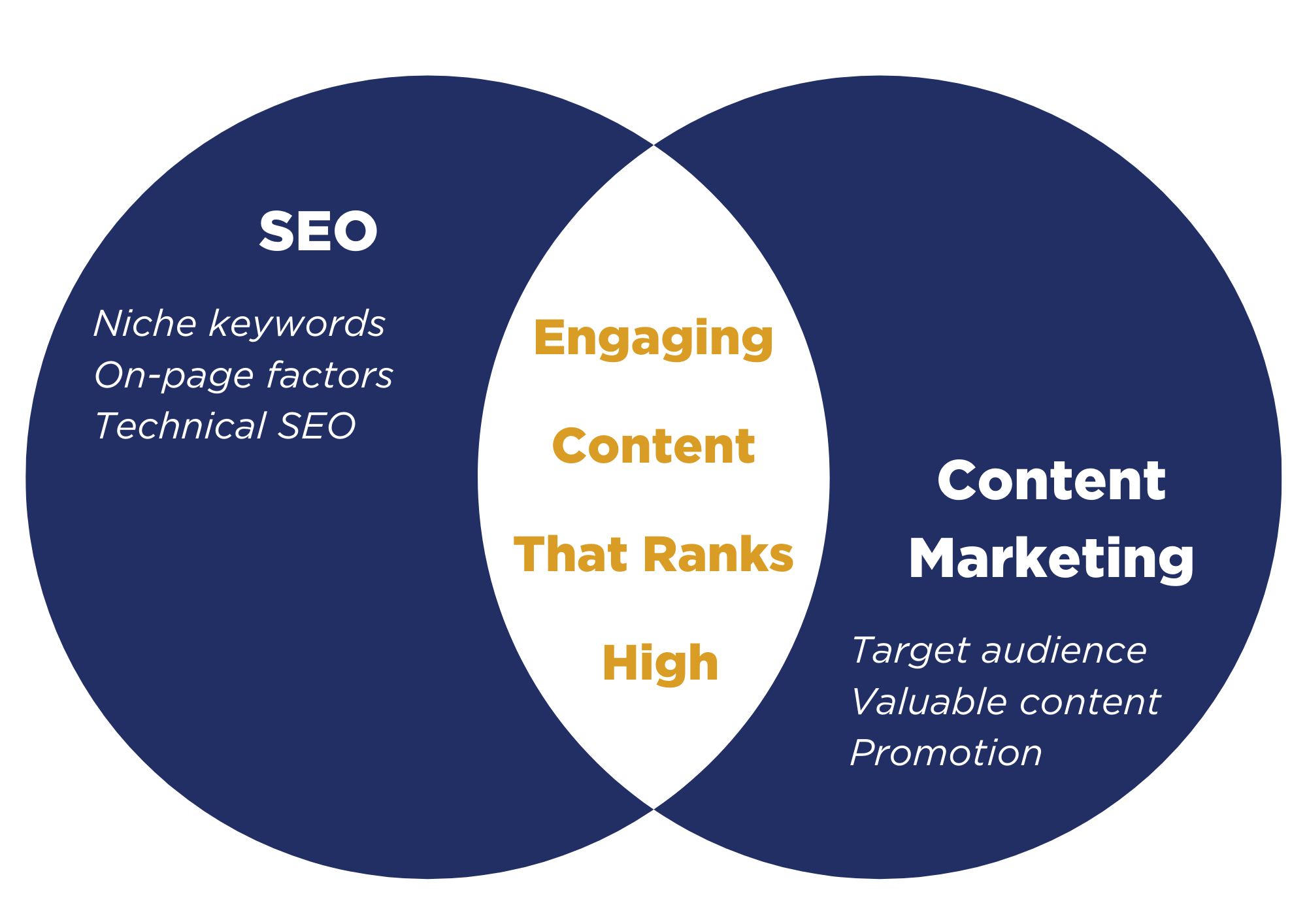 You also need to be able to promote and distribute your content so that it is more likely to reach a relevant audience of those who have a genuine interest in the content that you have created and are promoting. Those relevant and invested consumers are more likely to become future clients for your law firm.
Here is a convenient step-by-step overview of the elements that comprise effective content marketing:
Content Strategy
Refers to planning the creation of a variety of content regarding a topic or a set of topics.
Content Creation
Refers to creating written, visual, audio, and other content that supports the content strategy.
Search Engine Optimization (SEO)
Refers to optimizing content to enable web pages and websites to earn higher rankings on Google and other search engines so that they appear at or near the top of relevant searches.
Content Distribution
Refers to how the content that is created within the parameters of the content strategy is delivered and promoted to reach the relevant audience.
Content Calendar
Refers to the schedule for creating and distributing content.
Repurposing Content
Refers to taking existing content and reusing it for a different purpose.
Content Promotion
Refers to the methods used to distribute content to reach an intended audience.
Analytics and Performance Tracking
Refers to measurable results that provide insights into the performance and impact of content and its distribution.
Legal and Ethical Considerations
Refers to legal requirements that affect legal marketing and ethical considerations to prevent using misleading or deceptive content.
Collaboration Tools
Refers to technology to communicate and collaborate when creating content within the context of the overall content strategy.
Audience and Brand Proposition
Before you begin crafting any type of content, be sure to step back and think about the big picture of what you are trying to achieve. Who is your audience? What do they need, fear, and desire? What is your brand and unique value proposition? Why should a client choose you over one of your competitors? How will you solve their respective problems and pain points?
The following steps will help you to identify your audience members and educate them about your brand:
Demographics
You can compile data from current and recent clients to learn more about the demographics of clients for whom you recently have provided similar legal services. You also can use Google Analytics and similar research platforms to obtain demographic research on who is searching online for the specific legal services that you offer. You could compare those demographics with U.S. Census Bureau data within your local market area.
Psychographics
You can create a buyer persona that represents your ideal client for a specific type of tort. The persona should include details regarding age ranges, gender, levels of education, and general interests. You can use Google Analytics to help quantify your buyer persona by learning the basic demographics of those who use specific and relevant search terms regarding specific legal matters in your market area.
Pain Points
You can identify the pain points that cause people or organizations to seek your legal services and become clients. You should start by looking back at your more recent clients and compile a list of the reasons why they needed legal help and chose your law firm. Researching current events also can identify pain points that drive specific torts. With the pain points identified, you can focus on presenting legal solutions and marketing them to potential clients.
Information Sources
You should do your best to learn which information sources people use to learn more about legal matters. Fortunately, most of them use Google and other popular search engines to learn about legal matters and who can help them to resolve their respective legal issues. Studies show about 60 percent of client leads go to law firms that appear in the top three of Google search results.
Customer Journey
The customer journey is a way of mapping the different process steps by which people become paying customers of any business. Understanding the legal customer's journey can help you to create different kinds of communication touchpoints and craft distinct messages that meet the needs potential legal clients have at each stage they go through in becoming your paid client. This includes awareness (of both their legal need and your law firm's brand), research, consideration, purchase, and ongoing support. To reach the maximum number of potential clients, be sure to craft different forms of content through which you can speak to people at each stage. For example, your logo is important for those at the awareness stage but case studies of past client success will matter most to those who are at the research stage. Think of how you will meet the needs of clients at each stage, and for best results do not leave out any part of the customer journey.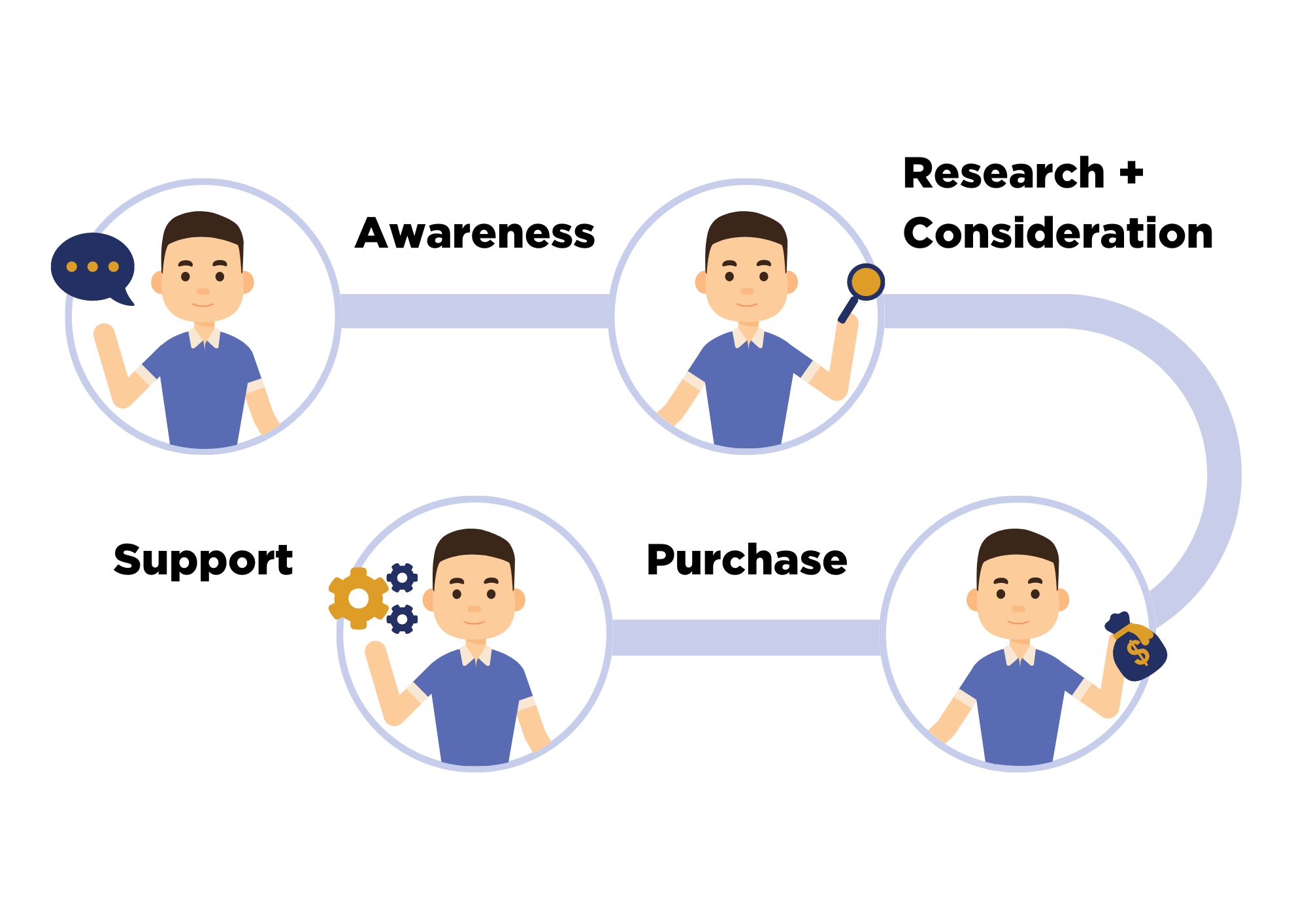 Client Profiles – As already mentioned, you can create a buyer persona that represents your ideal client and what is driving that person to seek legal services to address specific matters. Client profiles also help you to choose the types of promotional content and materials that would be the most effective at reaching prospective clients and helping to secure them as legal clients.
Market Research – You can use market research to better learn which local market segments are interested in your legal services and what motivates them to choose a law firm. Market research can help you to develop more effective marketing appeals and the channels and vehicles that drive them to your intended marketing targets. Unless you have a dedicated legal marketing research team, you likely will have to partner with one or more third parties to provide you with market research and analysis while you focus on winning cases for clients. Market research tools, like Thomson-Reuters' Strategic Insights, can help you to stay current on local market trends, data, and insights that help you to evaluate your law firm's marketing practices and how to better position the firm as it adapts to ever-changing local market conditions.
Competitor Analysis – You need to know who your competitors are and their respective strengths and weaknesses so that you can identify marketing opportunities and better learn how to successfully compete for clients in your market. You can start by identifying your direct and indirect competitors and compiling a list of each. Then you can more closely examine your competitors and the services that they provide for their legal clients. You can use tools like SEMrush and Google Analytics to identify online marketing that your competitors might use, including primary keywords and spend amounts when available. You should track how many office locations your competitors have, how they use their websites and social media, and whether or not they publish blogs, videos, podcasts, and other content. Keeping track of any public relations, such as special events, and how competitors promote their content, events, and services can help you to better learn what you are up against in local markets and how to compete more effectively for clients. It also helps to determine how receptive your target audience is to your competitors' marketing appeals so that you can learn what is working and what is not.
Brand Identity – The secret to successful branding is knowing that the brand image or identity is what exists in the minds of consumers. The general public essentially owns the brand image because it is what exists in their minds. Fortunately, you can help to shape that image via advertising, providing thought leadership on specific legal matters, and special events. You want to produce content that demonstrates your law firm's legal expertise while also educating potential clients in your local market. Positioning your law firm as the local authority on specific legal matters and reinforcing that effort with effective advertising messaging can help to enhance your brand and successfully promote your legal services.
Testimonials – Testimonials are statements made by others regarding your legal services. It is one of the best ways that a former client can become an advocate for your law firm by sharing basic information on how you helped to resolve a particular legal pain point and your law firm's handling of the entire matter. Word-of-mouth is always the most effective form of marketing, and testimonials are a type of word-of-mouth advertising for your law firm.
Case Studies – You can create case studies to show evidence of your experience handling similar cases for similarly situated clients and the positive outcomes that you helped them to achieve. Case studies can highlight specific problems regarding a particular case and how you helped to resolve them to your client's benefit and satisfaction.
Keyword Research
Once you have a clear sense of who your target clients are and what will help them identify you as the solution to their problem, you'll also need to conduct some research before you craft the content you will share online to establish yourself as a trusted expert in your field.
Here's how to do the foundational keyword research you need to bolster the success of your content marketing efforts:
Identify topics that match your goals.To effectively reach your intended audience, you need compelling topics based on keywords that will rank in the search results. An ideal tool to find these is the SEMrush Topic Research tool, which enables you to enter a topic, such as "personal injury," in the search bar and generate suggestions for related content topics.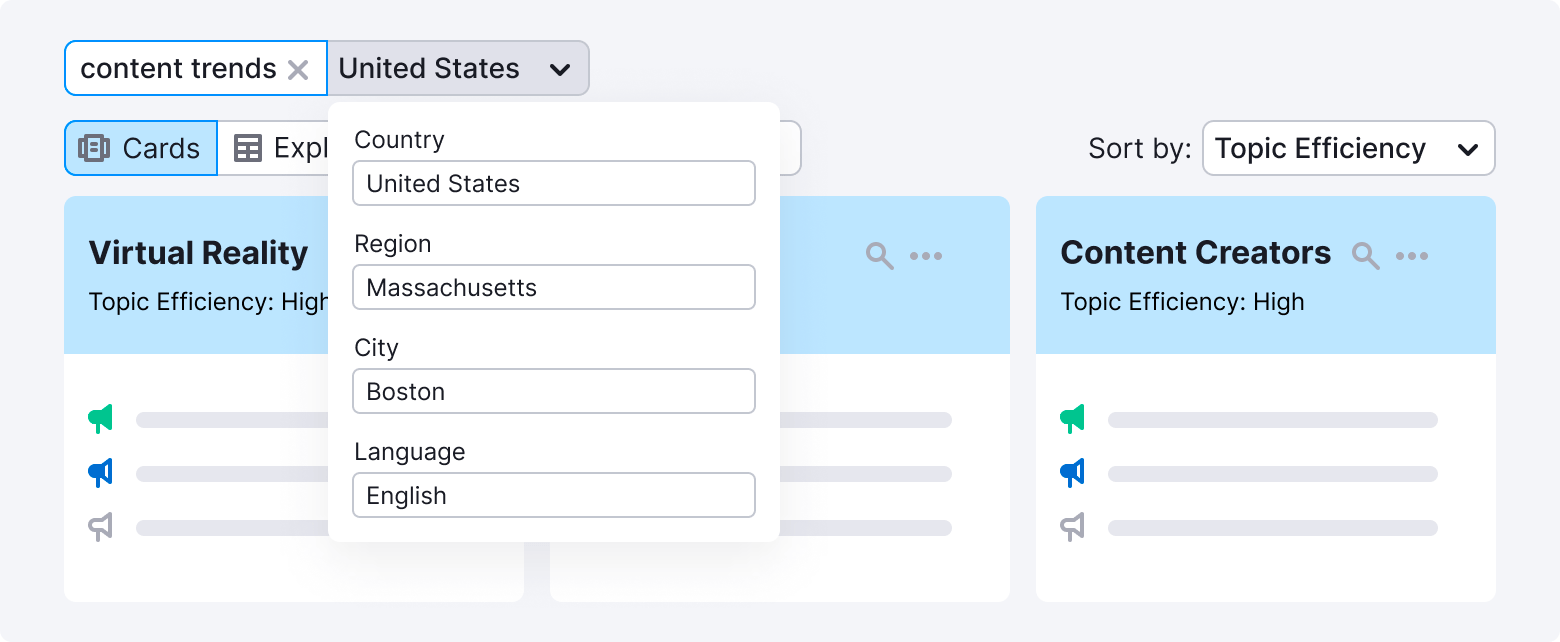 Use keyword research tools to analyze your competition. Tools like SEMrush and Google Analytics can help you investigate which keywords your competitors are using and how well those keywords are working for them. With SEMrush, you can use the Organic Research Competitors report to learn which websites are competing with yours for organic traffic. The results will show you which competitors are using common keywords.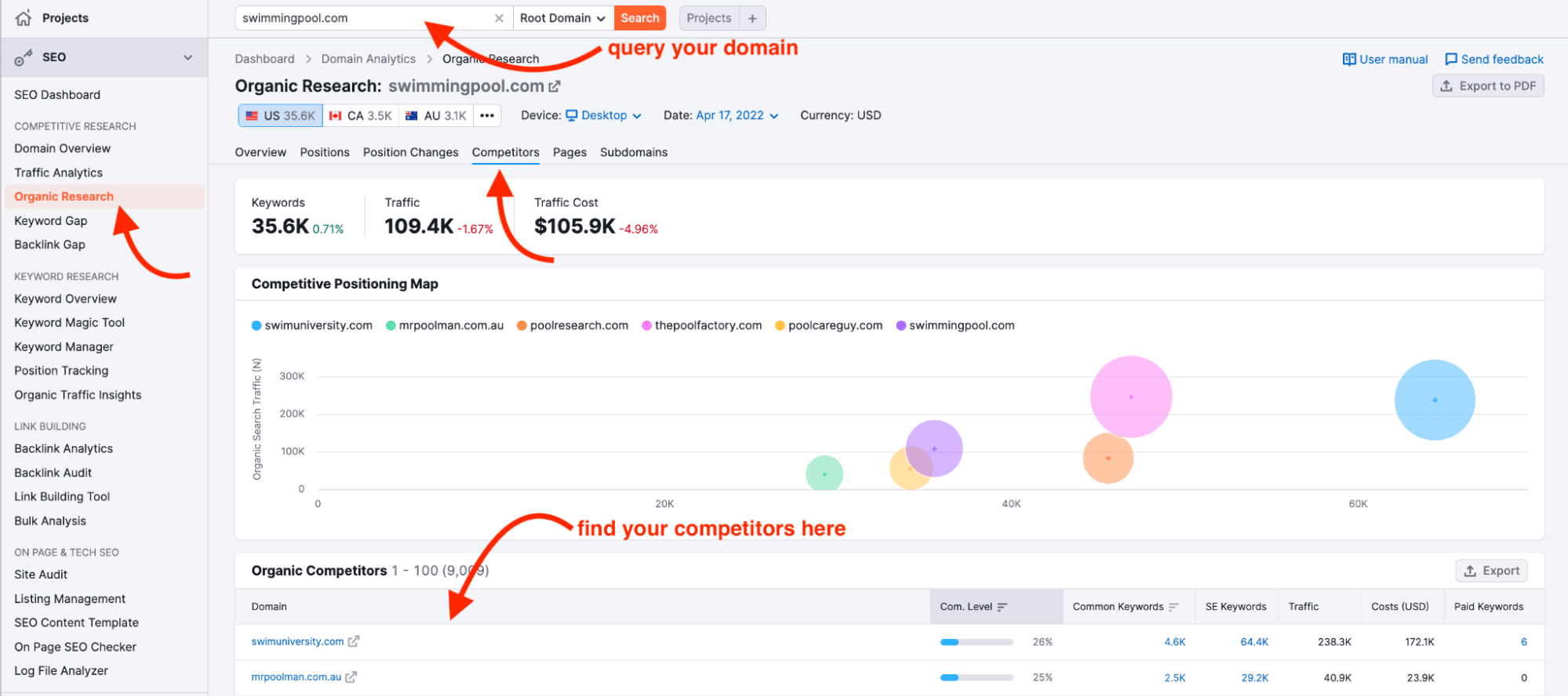 Consider user intent and draft a list of keywords that makes sense to enhance your SEO efforts. User intent refers to the reasons why people use particular search terms on Google and other search engines. SEMrush offers a tool to provide a keyword intent analysis that you can use for this purpose. Just copy and paste a list of up to 100 keywords to obtain an analysis report of each keyword, the user intent behind it, and current trends. You can also use this tool to find keywords that indicate a high user intent to obtain legal services but that currently have relatively low competition.
Add your chosen keywords to high-quality content.Be sure to incorporate keywords naturally in content that is genuinely helpful for your audience and avoid "keyword stuffing." Keyword stuffing is when a particular keyword is overly used in ways that come across as forced rather than natural in the context of your content. A good guideline is that any given keyword should account for no more than 1-2% of the total words used, and the rest of the content should be directly related to that keyword as if it were the "main idea" of that content.
Track your efforts and refine your content.The beauty of SEO is the ability to generate quantifiable and useful data via analytics and performance tracking. Using tools like Google Analytics can show how well your website is performing and the time, locations, and number of visitors that your website receives. This will help you see what's working and what's not so you can adjust accordingly for better results.
Content Quality Factors
The value of content is not always about length or detail. One of the quickest ways to generate backlinks that will increase your website's profile and strengthen your organic rankings is to create engaging and share-worthy content that you and others promote through social media.
To be considered share-worthy, make sure this content follows these simple rules:
Short and concise – Share-worthy content is meant to be consumed quickly. Written content should be kept to a few sentences at most and videos should be less than a minute. Twitter is an excellent example of short and concise content that is easily shareable.
Do: Get to the point and redirect to relevant content.
Don't: Bury the message with too much text or other content.
Quickly digestible – Similarly, share-worthy content should be understood by most people in a short amount of time. Anyone who reads or watches your video should be able to quickly recall what they just saw in seconds.
Do: Write simple and short content that drives home the message and is presented in a readable manner.
Don't: Produce content that requires several minutes to digest and uses large blocks of text that makes it impossible to scan.
Actionable – Your share-worthy content should encourage readers or viewers to take action of some kind, such as "like" or "share" your content, or contact a lawyer.
Do: Include "Like" and "Share" buttons when possible.
Don't: Leave it up to visitors to figure out how to like or share content.
In addition, there are a few qualities that increase the likelihood that your share-worthy content will do well on social media:
Visual appeal. Consider how easily your visitors can see the content, scan it with their eyes, and obtain the information they need. Use headers, subheaders, and short paragraphs to help break up textual content. Also let bullet points, images, and infographics do the heavy lifting for you.
Relevance and usefulness. Focus your content on a topic that is relevant to your visitors, helps them learn more, and even solves their most pressing problems. For example, if a visitor finds your site through a search for product liability law in their state, the content they find should discuss product liability within the context of their state's laws, not just provide a general overview.
Emotional appeal. Think of the tension that keeps people watching especially well-made films. Emotional appeal can help create a sense of urgency, as when a prospective client may be facing drunk driving charges. It can also entertain with amusing content, like a good joke, or create a sense of awe with an aesthetically appealing photo or image.
Storytelling. Users become engaged when you provide background regarding a particular issue and show its relevance and potential importance to a visitor. For example, the background story on how water became contaminated at the Camp Lejeune military base could help visitors know whether or not they might qualify as plaintiffs in that mass tort.
Interactive elements. Consider how you can make your visitors into active participants while visiting your web pages or otherwise taking in your marketing content. For example, you might include a short and fun quiz about the most popular sports cars on a web page about moving violations. Anything that helps hold visitors' interest and make them active participants helps keep them involved and make them more likely to choose your legal services.
Economic Value of High-Quality Content Marketing
In closing, we can't emphasize enough how important it is for you to generate high-quality content at the outset – for two reasons. High-quality content will organically push you up in the SEO rankings, and it will also make updates less necessary. High-quality content is less likely to be considered outdated by the algorithms. If your webpage maintains its organic rankings over a long period of time, it's likely that content won't need updating for a longer period of time.
Conversely, lower-quality content may take less time and money to produce, but it will need more frequent updating or more revisions over time. You may find it more cost-effective to invest in high-quality content initially rather than pay further costs over time. Such costs can include editorial costs, writer costs, or just more time out of your busy schedule to produce new content.
Better to pay the extra money upfront and spend more of your time on your legal clients.