Local SEO for Lawyers
Introduction
People often use search engines to find local businesses. When they do, will yours be found?
If you fill your law firm's website with content tailored to grab the biggest audience possible and neglect to target local search queries, you are less likely to be found by the clients who need your services. Most likely, your firm serves a specific jurisdiction or county. So it makes sense to optimize your content in a way that increases your likelihood of ranking in search results tied to your local area. Local SEO can help you narrow down clients by location and tailor your website to a local client base that you can actually assist rather than wasting their time and yours.
This article walks you step-by-step through everything you need to conduct local SEO for your law firm's online presence.
Why Law Firms Need Local SEO for Their Websites
One of the many best SEO practices for a lawyer's website is to target local search users. Most businesses are focused on serving their local communities. A law firm in Los Angeles may not be interested in clients in Montana or New York. You may find it useful to tailor your SEO efforts to your specific region or jurisdiction rather than unrelated areas or a national audience.
When people search for legal services in their local area, they are more likely to choose a lawyer or law firm that appears at the top of the search results. By implementing local SEO strategies, lawyers can improve their visibility and ranking in local search results, such as Google Maps and Google My Business. This can help to increase the chances of potential clients discovering the lawyer's brand and considering their services.
Fortunately, local SEO ranking factors are largely the same as SEO ranking factors in general: authority, relevance, and for local SEO – proximity. Local SEO will allow a law firm to rank for local keyword targets that often have more converting traffic than standard organic rankings. While it may be difficult to rank for generic and global keywords such as "family lawyer," it may be significantly easier to land at the top of results for "family lawyer near Los Angeles." For instance: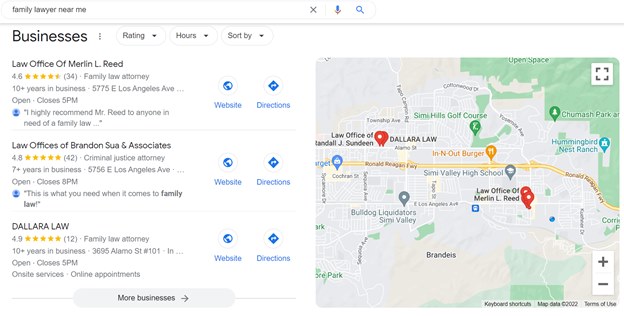 This screenshot shows local search results for "family lawyer near me" searched by a user in the Santa Clarita area of Los Angeles County. As you can see, the top three results for law firms in the local area are the Law Office of Merlin L. Reed, Law Offices of Brandon Sua & Associates, and Dallara Law with each showing contact information and their locations on the map. Google also shows how many reviews each has and the number of stars they've been given by reviewers. Your goal with Local SEO is to get into the top three search results yourself, because most people searching for "family lawyer near me" will contact one or all of the first three results and are far less likely to click on the "More businesses" tab.
Local SEO can help your law firm build trust and credibility with your local audience. When your firm appears in local search results, as in the example above, it signals to potential clients that the firm is an established and reputable business in their community. This helps improve your firm's brand recognition which increases the likelihood of clients choosing your services over your competitors.
Additionally, local SEO strategies such as getting reviews from clients, optimizing for local keywords, and creating localized content can help you build a positive reputation within your local community. By demonstrating expertise and providing valuable information to potential clients, you can establish yourself as a trusted authority in your field.
Different Kinds of Local SEO Rankings
Local SEO helps increase the chances that your site will be noticed by potential clients in multiple search engines. While Google is the largest and most familiar search engine, your site can also rank high in local review websites or different sections of Google search engine results pages. There may be less competition for these additional websites and search result positions, so it helps to understand the difference. Here are some of the different kinds of local SEO rankings for which you can optimize your law firm's site.
Standard "Search Engine Results Page" (SERP) Rankings – SERP is the page that a search engine displays when a user enters keywords to conduct a search. Different keywords return different SERPs, and each SERP ranks the pages shown according to the algorithm's calculation of relevance to the user's intent (based on the keywords they use to search).Most search engines include paid advertisements at the top and/or sides, and then list organic search results just below the top ads. Your goal with local SEO is to get your website to the top of this result page or as close to the top as possible. The higher a search result ranks on the SERP, the more people tend to click on it.
Local Pack Rankings – Many search engines, including Google, display certain search results when a user searches a map. For instance, if you type in "family lawyer near me" in Google maps and you live in Santa Clarita, Google will display certain law firms in that region. Here is what a local pack ranking looks like on the user's screen:
As with the SERPs, you want to be one of the first law firms displayed in Google map for your particular area. Local SEO is one of the best ways to help you achieve that goal.
Review Filter Rankings – There are also several different review-based websites that local SEO can help you rank in. These websites include Yelp for small businesses, Glassdoor for employers, and other websites that allow users to review businesses. Many potential clients rely on review sites like these to select a law firm to represent them. You can attract more clients if you can get your website to the top of the review sites with consistently strong, positive reviews.
Do not underestimate the power of review rankings for your legal business.
Why You Need Reviews
You probably already understand that reviews increase your social media presence and brand recognition. And of course, potential clients want to know they will be well-served by their choice of legal counsel. They may not know how to evaluate judicial clerkships or law review, but they empathize with and are influenced by how other clients believe you represented them.
But there's an even more important reason why you must pay attention to reviews if you want to increase your clientele through online channels.
Reviews increase trust signals for all search engine rankings. Search engine algorithms use reviews as a factor when ranking search results. So be sure to include links to your positive Google or Yelp reviews on your website.
Implementing Local SEO
Now that you understand the importance of local SEO for growing your legal business, here are specific steps for implementing this strategy.
Create Your Google Business Profile
Google is the most popular search engine, processing 99,000+ searches every single second. If you only have time for one local SEO tactic, this is the one to prioritize as it will increase your likelihood of appearing in the local pack rankings described above.
Here's how:
Go to https://www.google.com/business/ and sign in with your business name.
Choose your business type (I.e., service business) and provide the specific kind of business you have (I.e., legal services).
Enter your business address and contact information. This information will be displayed on your Google profile, so be sure to enter public contact info.
Verify your website by providing the verification code Google sends your phone. Google will then register your location on Google maps.
Click on "Finish" once you are done.
NOTE: If you have more than one location, be sure to register each separately.
Set Up Your Social Media Profiles
Social media profiles can increase your online visibility, provide backlinks on your website, serve as additional sources of local citations, and provide an opportunity to engage with your customers and respond to their reviews, comments, and questions – all of which can help you rank higher in local search results and drive more traffic to your website.
Additionally, the major social media platforms also serve as search engines where you can be found by potential clients searching on relevant keywords.
Create profiles and pages on:
Facebook: the largest platform with 2 billion monthly users
Instagram: more than 1 billion monthly users, more than 60% are between 18-34
LinkedIn: more than 800 million users, 60% are between 25-34
Twitter: most popular source for news, visited 7.1 billion times per month
Pinterest: 444 million users per month, 34% live in rural areas
Add Localized Content to Your Website
Add content on your website that is tailored to your specific city, state, or region and designed to be useful to potential clients in your area. Be specific in your language and explain on how you help local clients in your:
About page
Practice area pages
Testimonials and reviews
Blog posts
You can also angle your localized content to answer questions that appear in local target keyword SERPs under the 'People Also Ask' area: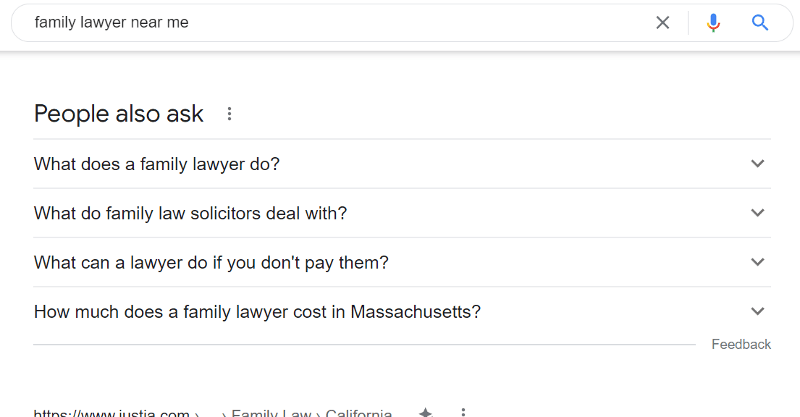 To increase the likelihood of having your website's answer appear in this spot, be sure to:
use keyword-rich and localized headings, subheadings, and metadata
provide clear and concise answers
use localized schema markup which is a special type of code that helps search engines better understand what your content is about.
Cultivate Good Reviews
You will rank higher on search engines the more five-star reviews you have. Five stars are an easy way for SEO to determine the quality of a particular business. In addition to improved search rankings, good reviews increase click-through rates and help build trust and credibility.
Make sure you claim and monitor your reviews on Yelp, Google My Business, Facebook, Avvo, and other legal directories and review platforms such as Martindale-Hubbell, Lawyers.com, and FindLaw.
To understand the importance of good reviews, take a look at this screenshot showing the top four results when a user searches for family lawyers in the Santa Clarita area: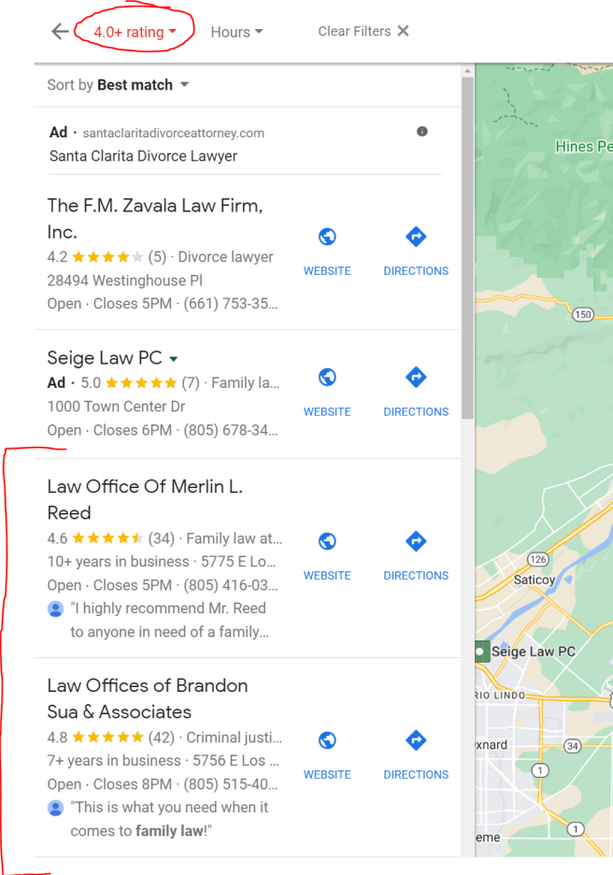 These results have been filtered by review star ratings, as displayed in the top left corner. This user is searching for law firms that only have 4.0 star ranking or higher. Any law firm that has less than three stars will not be displayed.
Notice that the webpages for the Law Office of Merlin L. Reed and the Law Offices of Brandon Sua & Associates are displayed here as well as in the screenshot above which was filtered only by location.
Together, these two screenshots show that more highly-reviewed law firms appear in search results not only when a user searches for the highest-rated lawyers, but also when the user only searches for results by location (such as "near me"). Because the algorithm rates those businesses as more relevant for the user, good reviews improve your overall ranking.
Understanding the Competition
You can also improve your law firm's website by comparing it with others that rank well in your area. Knowing where your website stands in relation to your competition can help inspire your local SEO efforts. Begin by doing your own online searches and reviewing the top results to understand your competition.
Here are some points to consider when assessing your competitors' web pages:
Content
Content is often the biggest gap between top ranking websites and lower ranking websites. Websites that have lengthy and detailed content will often outrank those that do not. What are your competitors writing about? How long is their content and how frequently do they update their website? Do they use videos or images to promote their website?
Navigability
Websites should be easy to use or search engines will look elsewhere. The easiest way to improve the navigability of your website is through links to other web pages. How many links do your competitors use? What other websites do your competitors link to? Do they link to government sources or other legal resources?
Social Media
Social media is a big part of most marketing strategies today. Do your competitors use social media? Are you using the same social media sites they are? How frequently do they make a social media post? Have they included social media buttons on their website so users can follow or share their content?
Reviews
While communication technology has improved drastically in recent years, client reviews are still one of the most efficient marketing tactics you can use. How many client reviews do your competitors have? Do they link to review sites from their law firm's website to create backlinks?
Studying your competition can reveal both which features higher-ranking pages have that your own website lacks and what your competitors are missing that you can provide. For instance, if all the family lawyers in your area are focused on child custody but overlook alimony, you may want to start writing about spousal support on your website and social media. This will set your website apart from others, and give you a greater chance of ranking locally for a legal area that is untapped online.
Analyzing Your Local SEO Tactics
Finally, to determine which of your local SEO tactics are working and what could use some adjustment, you'll need to dig into comparison data. We like to use automation tools like SEMRush to speed up the process.
Use this link to sign up for a free 7-day trial: https://www.semrush.com/signup/
Log in to your SEMRush account with your username and password.
Select Organic Research under the COMPETITIVE RESEARCH menu: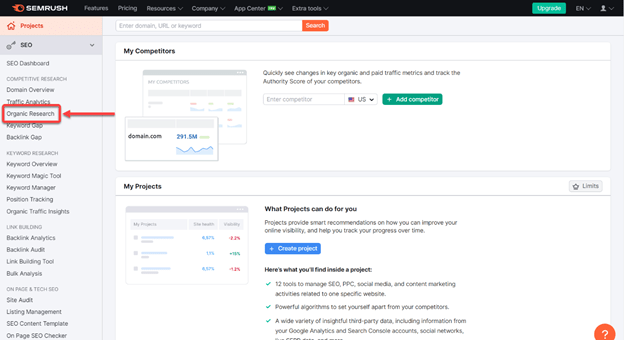 The Organic Research page will appear: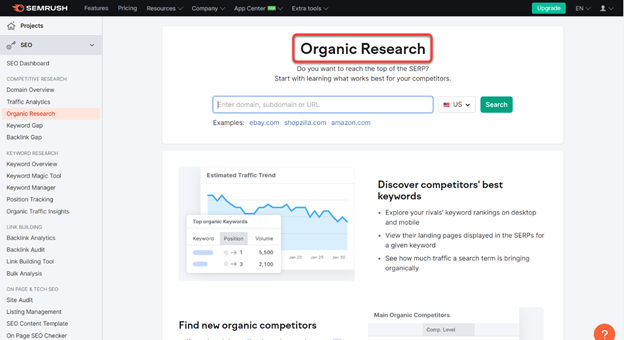 3. Enter the URL for your competitor's website: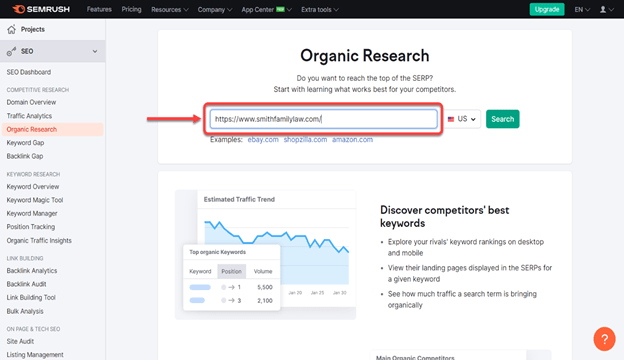 4. Click the Search button: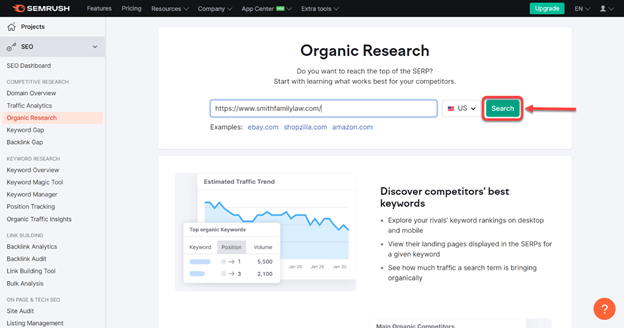 The analytics for your competitor's website will appear: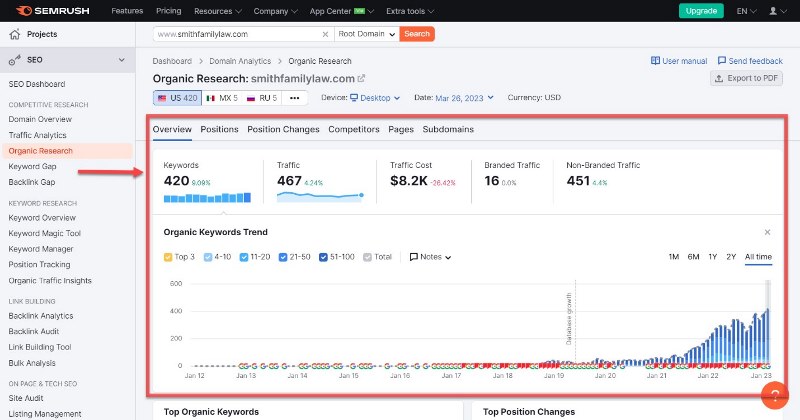 The dropdown menu arrow, located between the search bar and the search button, has four options:  
Root Domain

– refers to the entire website and all webpages with the root word in it. (anything with

www.SmithFamilyLaw.com

and the pages associated with it). 

 

Exact URL

– only includes the exact result you typed into the search bar. 

 

Subdomain

– is the prefix located in front of the URL, for example,

www.

shop

.SmithFamilyLaw.com

. 

 

Subfolder

– refers to the prefixes located at the end of the URL, for example,

www.SmithFamilyLaw.com/

biography

.
    5. In the dropdown described above, select Exact URL:
The analytics page includes competitor's keywords, amount of traffic that enter their website, SERP features, and other relevant information. You can see which keywords and search engine results pages (SERP) features your competitor has used. Their keywords will show you which topics they are covering and how frequently they are including those keywords.
SERP will provide insight into your competitor's social media presence, whether they are using any images or videos and how many of each, as well as any reviews they might be displaying.
To compare your competitor's website with your own, simply copy and paste your own website's URL in the Organic Research feature to see the same information about your site.
If you notice that a website that is more highly ranked in the SERP or Google Maps has certain features, you can adopt these features into your own website to boost your rankings. Plus, you can continue to mimic the features of your more highly ranked competitors until your website climbs to the top of the search website rankings you are interested in.
In Conclusion
If you decide to implement your own local SEO, the most important thing is attention to detail. Short-cuts won't get you the rankings you need to drive a steady stream of cases to your website. Your success in this endeavor rests on your ability to consistently earn good reviews, leverage appropriate keyword intent, and keep track of the competition. The only effective strategy is to dedicated consistent time and attention to the "long game" of SEO in general, which includes but is not limited to local SEO.