How to Request eSignatures
(Click here to download the PDF version of this guide)
Attorney Guide
Sending Retainer Agreements via the Attorney Dashboard
The E-Signature feature is enabled by default for all attorneys in the system although this is configurable via Attorney Test Feature as indicated below. 
The E-Signature menu can be found in Attorney Settings.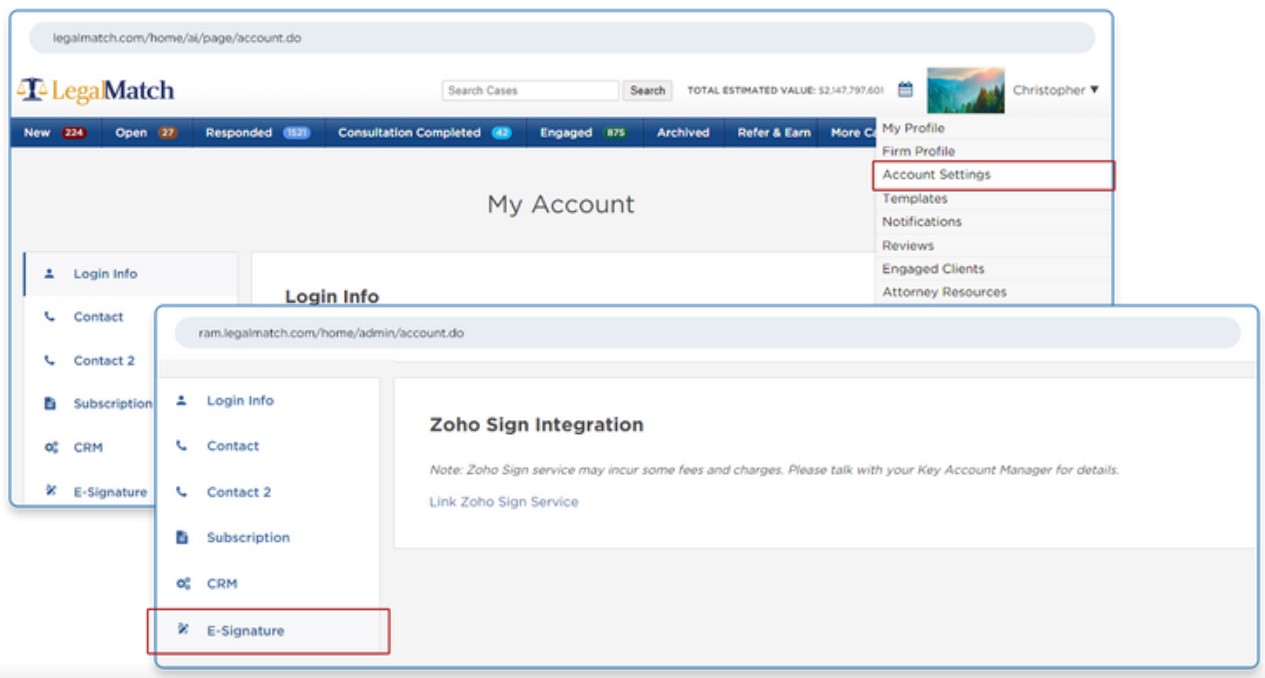 How it works
Go to Account Settings and click E-Signature. Click the Link Zoho sign Service. Page will be navigated to https://accounts.zoho.com/signinservicename=AaaServer&serviceurl…


For attorneys with existing

ZohoSign

account, input the username and password to login.




Click

Accept

and attorney is navigated back to the dashboard with a banner

Zoho Sign

Service Linked

.


For attorneys without existing Zoho accounts

, click

Sign Up Now

, which will

redirect to the registration page.




At this point, once the Zoho Sign account is linked to the attorney, the callback is automatically generated in

Zoho API Settings

.

Note: You may need to verify that this is created, otherwise the EP Document Status will not work as intended.




Once setup, the attorney can now send an Engagement Proposal via the

Follow Up

button

in the

Responded, Consultation Completed and Engaged

Tab ac

cordingly.




Take a case and Send an Engagement Proposal. If templates are not set up, it should prompt the following.




If templates are set up, it should display the templates in the dropdown.

Note: Check video recording how to setup templates in Zoho.


Attorney chooses a template from the dropdown and click

Send Engagement Proposal

.

 




From the top of the

attorney dashboard, a banner

should display

Engagement Proposal Document Sent

.


From the case details, the attorney should be able to see the

EP Document Status as Sent.


An

email is then sent by Zoho

to the client indicating t

he attorney request to sign

the Engagement

Proposal document.




Once the client

clicks

Start Signing

, a new tab is open redirecting t

o the document in Zoho Sign dashboard.




At this point, the

EP Document status s

hould be updated from

Sent to Viewed

.




Also, it is possible to append automatically the following information:

client_firstname

,

client_lastname

,

retain

er_fee

,

retainer_other_info

. These can be set up in the templates.




Once the client signs the document and click

Finish

, the EP

process is completed.




In the case details from the attorney dashboard, the

EP Document statu

s is updated from

Viewed to Completed

.




The client has then the option to

download or email the signed document

in Zoho.